CUSTOMER SATISFACTION PRODUCTS
QUALITY AND HUMAN DEVELOPMENT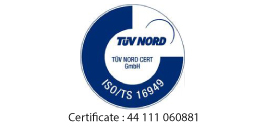 Thai Automach co., Ltd. aims to produce high quality products for our customers and intends to deliver our products on time. We strive to enhance our customer satisfaction and strongly value the development of both our products and our staff. Our promise is to serve and continually build trust with our clients.
TAM will be a part of global automobile business and aims to make a positive impact for humankind. We take pride in our work and value theexcellence, safety, quality and eco-friendliness in our foundations forultimate sustainble development.
TAM is a manufacturer of automobile parts with a certified international standard. Weare ready to support andprogress with our clients. With the cutting-edge manufacturing technology, advanced quality control, and highly-skilled staff who always willing to help, we set our goals to succeed with you.
65 Moo3 Bungbon, Nongsua, Pathumthani 12170 Thailand
Tel. (+66) 02905-4680-2
Fax. (+66) 02905-5075
www.thaiautomach.co.th